What, not sure about what Multimembership is?
In a succinct way, multimembership refers to being a member of several social networking environments, communities, platforms, and technologies at once. You know, I blog here and Tweet there and participate in Facebook over there (among many others); but how do I manage all this?
If you are as interested in exploring this issue, you may want to join our upcoming discussion: Managing Multimembership in Social Networks: Oct 27-Nov 9, 2008. We are holding this discussion in conjunction with the Facilitating Online Communities class, where class attendees were asked to participate in a mini-conference. We are thinking broadly about our topic, and want to reach as wide an audience as possible to get the most ideas out there from the many people who face the same challenges.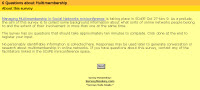 Want to participate before the session itself formally begins? If so, consider taking our quick and painless online survey so we can get some data to share with the participants when we begin in another week and a half.
Did I mention our online Multimembership discussion is free, thanks to the support of SCoPE? Please, invite your friends—there is wisdom and power in the network!