I recently read a story that got me teary-eyed; one about abused and mistreated elephants in Thailand that have been rescued by a young woman who goes by the name
Lek
. She founded
Elephant Nature Foundation
, a non-profit organization that serves the needs of suffering elephants in Thailand. I first read about her in
Wildlife Conservation
magazine, the publication of the
Wildlife Conservation Society
(Bronx Zoo, Central Park Zoo, NY Aquarium, et al.).
I spent a few hours looking around their website, and was shocked to learn how brutal people are to elephants in Thailand. I have always had a fascination with elephants, but never knew how vulnerable they really are in the wild and even after being pressed into service.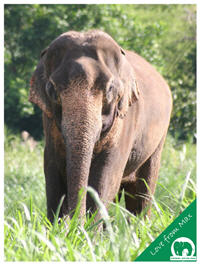 I decided I had to get involved and do something, so rather than just send a donation, I took advantage of their novel program to foster an elephant. Much more interesting than sending a check, and while they encourage visits to the park, I cannot get to Thailand in the near future. Thus, I fostered Max, an 11-foot tall elephants who was rescued by the park a few years ago. I am looking forward to getting updates about him over the next year, and feel that I am helping, even in a small way, something much greater than me.
If you have not donated anything during the holiday season yet, consider supporting the wonderful work at Elephant Nature Foundation; they even have a U.S. tax ID.
Technorati Tags: Elephant Nature Foundation, Elephant Nature Park , Lek, Wildlife Conservation Society