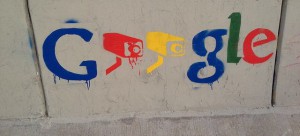 As a follow-up, or rather continuation, to my last post on a
Rhizomatic ANT in Germany
, I have been thinking about the role our ideas play in helping (challenging? confronting? supporting?) us move our actions forward. While traveling, I find myself coming back again and again to the single web presence to help me plan for and navigate, my trip: Google.
Who doesn't use Google, after all?
That may be one of its benefits / strengths . . . or one of its weaknesses.
Whether for drafting Continue reading "Using Google via a German Actor-Network"