I am teaching
PPOCCID
(Principles and Practices of Online Course Creation and Instructional Design) again beginning this evening. I made the
syllabus
available for anybody who wants to see / use it (comments and feedback are very welcome!).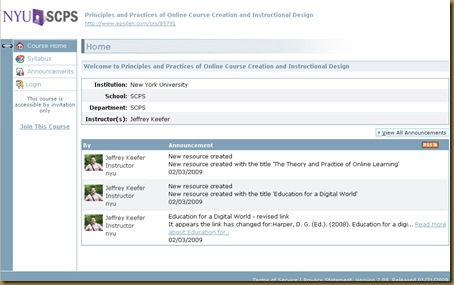 One of the ongoing assignments for my students will be to blog:
Course Blogs

Reflective Practice is a critical aspect of teaching and learning, and a fundamental element of teaching online involves acquiring a comfort with technology to communicate and collaborate.
Online learning is a more networked experience than traditional face-to-face (F2F) learning. Thus, students are required to use a blog for this course. Students may use their own blog (if they have one) or create a new one (Blogger, WordPress.com, or elsewhere). Blog posts should be done at least once a week discussing some learning or a reaction to anything in the course.

Making at least two comments every week on other course attendee blogs is required.
Let me set an example for our first posting!