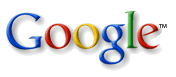 Do you like the Google logos that regularly change, depending on the holiday and event? Google has mastered the ability to incorporate holiday symbols while still maintaining their corporate look and feel.
All this made me wonder–is there a specific location to see all of these logos in one place? I Googled that (of course!), and there sure is! All of Google's special logos are listed on their Holiday Logos page. It also makes sense that there is a single graphic artist who creates all of them–Dennis Hwang.
I needed a little levity before my new online class begins tomorrow, so this is it. Hey, different people find different ways of preparing. Good lesson in there for me, I think . . .