I went to see the Dutch collection show at the Metropolitan Museum of Art today, entitled The Age of Rembrandt: Dutch Paintings in The Metropolitan Museum of Art. I have seen many of these works over the years at the Metropolitan, since as a member I go there frequently to recharge.
In the same way I found the paintings recharging, I thought I would share some of them from the collection I find most engaging (all from the Met's site):
Aelbert Cuyp (Dutch, 1620–1691) Young Herdsmen with Cows, ca. 1650:
Rembrandt van Rijn (Dutch, 1606–1669) Man in Oriental Costume ("The Noble Slav"), 1632:
Johannes Vermeer (Dutch, 1632–1675) Young Woman with a Water Pitcher, ca. 1662:
Jacob van Ruisdael (Dutch, 1628/29–1682) Wheat Fields, ca. 1670:
Rembrandt van Rijn (Dutch, 1606–1669) Aristotle with a Bust of Homer, 1653: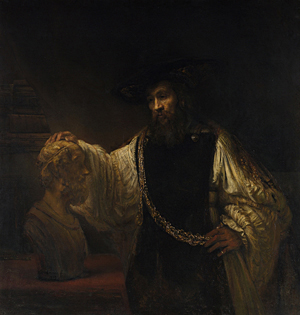 The recording that accompanied the show stated that the final image here, Aristotle with a Bust of Homer, is the most significant work in the collection. While it gave only a brief account why this claim was made, I was hooked. It seems there is the tension between Aristotle's fingering the worldly reknown signified with his gold chain and the force of Homer's legacy, without the benefit of worldly compensation. They are both memorialized, and it is to our benefit this is the case with Rembrandt's painting to remind us of this tension and leave it up to us to determine which one we choose.